Skip to Content
Inviting New Dental Patients in The Colony, TX
Rossen Dental provides an affordable dentist for The Colony, TX and surrounding areas and is currently seeking new patients. Our comprehensive dental office provides general, cosmetic, restorative, and emergency dentistry. We also provide orthodontic dentistry to correct misaligned teeth. We treat families and individuals of all ages, personalizing their dental treatments to achieve beautiful and healthy smiles. Our document filling and appointment scheduling are quick and accessible. When choosing us for your next visit, you'll receive the highest quality dental care. Request an appointment.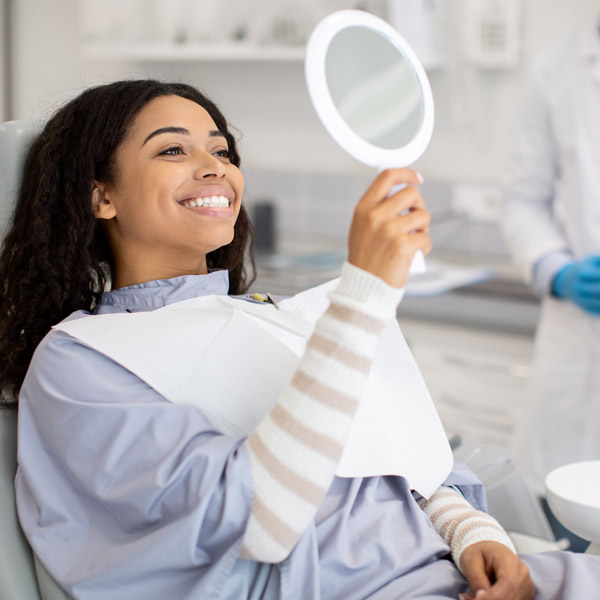 Welcome to Your First Appointment
Our staff will welcome you warmly when you arrive at your first appointment and make you comfortable. During the appointment, Dr. Rossen or Dr. Al-Rawi will discuss your current oral health condition, review your medical and dental history, and talk about your oral health habits and lifestyle. They will answer and address all your questions and concerns regarding treatments, care, and dental condition. This information will help them develop a customized treatment plan. We typically provide patients with the following during their first appointment:
A comprehensive dental exam
X-ray analysis of the mouth, teeth, and gums
A professional dental cleaning
Simple & Convenient Appointment Scheduling
For your utmost convenience, we recommend filling out your patient registration forms online, either on your mobile device or desktop. Doing so will expedite the process and allow us to get you in for treatment as soon as possible. Please bring all required insurance cards and documents with you before your appointment. We ask that you arrive 15 minutes before your appointment so we can fully prepare you and your documentation. Our form and scheduling process enables you to quickly get the care you need.
Receive Compassionate & Comfortable Dental Care
At Rossen Dental, ensuring an outstanding patient experience is among our top priorities. We understand that many patients feel unease when visiting a new dentist. Our staff is dedicated to patient comfort and nurtures an accommodating environment where patients feel safe. We'll communicate openly and honestly and listen to your needs and concerns. You can expect undivided attention toward your oral health and meeting your goals. We make it feel good to be at the dentist's office.