Skip to Content
Personalize Your Smile in The Colony, TX
Rossen Dental makes smiles as beautiful as can be by providing personalized cosmetic dentistry in The Colony, TX. Our cosmetic services improve the appearance and aesthetics of teeth. They are conducted to reverse the effects of discoloration, chips, cracks, misalignment, and other aesthetic conditions. We can carefully reshape damaged teeth to make them look and feel natural again. Dr. Rossen, Dr. Al-Rawi, and the team love helping patients feel confident and proud in their smiles, and our services will return your smile to full beauty. Request an appointment.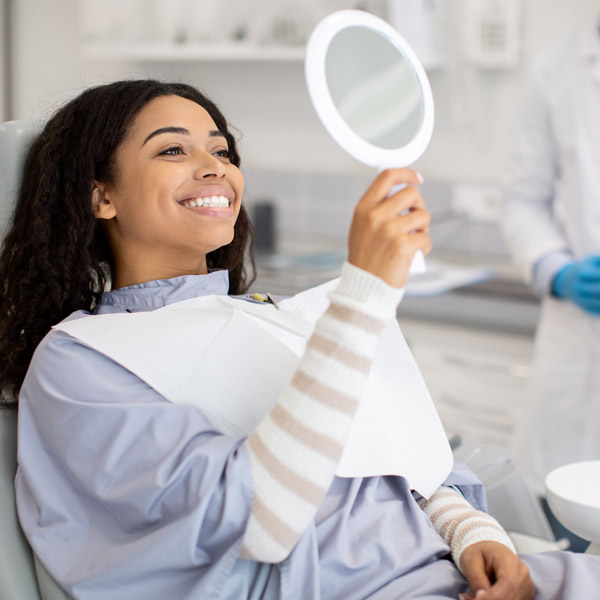 Deep Dental Whitening for Exceptional Smiles
Many patients have discolored, yellowed, or darkened teeth due to food, drink, and wear and tear. Our teeth whitening services lighten and brighten tooth color. Our in-office whitening lasts approximately one hour and will reduce or eliminate staining. It penetrates deeper and is more thorough and effective than standard at-home brushing and flossing. You'll leave our office with a shining, pearly white set of teeth that make you feel younger and more confident in our smile.
Rejuvenate Your Smile & Satisfaction
Our cosmetic dental services are intended almost exclusively for the look of your teeth. They are performed to brighten and whiten teeth, reshape them, erase chips and cracks, and improve the smile's uniformity and structure. If you've suffered pain or low-self esteem because of your imperfect smile, our services will return it to complete beauty and vitality. We offer a wide range of cosmetic options customized for each patient, including:
Cosmetic Dental Results You'll Absolutely Love
Though cosmetic dental services are primarily intended for appearance and aesthetics, they can also provide health and functional benefits. They correct misaligned and mishappen teeth, which may improve the ability to eat and speak and prevent teeth from shifting out of place. Keeping teeth in place can prevent damage or decay from occurring. At Rossen Dental, you'll receive customized treatments tailored to your specific oral beauty goals. We aim to provide you with the smile of your dreams.